ATP! Essential Listening – BANKS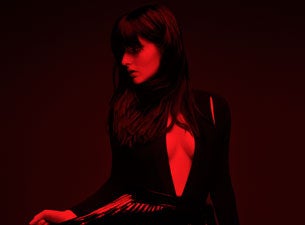 After walking up the Gorge Amphitheater hill at this past year's Sasquatch Music Festival, I found myself at the El Chupacabra tent waiting for the next act to come on. She was a solo act and seemingly unknown at the time. Her set began as soon as she walked on stage. A hazy synth and bass line filled the tent as she swayed back and forth to the twinkling piano of her opening song. Her name was BANKS.
Hailing from Los Angeles, California, Jillian Banks has been writing songs since the spry age of 15 while teaching herself how to play the piano. Today, the 26 year old has captivated audiences worldwide with her atmospheric and dark approach to music.
BANKS began putting her music out on
Soundcloud
in late 2012 where Billboard caught wind of her and praised her music as "magnetic". She then signed shortly after to the label Good Years and released her first single
"Before I Met You"
in February 2013. After catching major air BANKS continued recording and has put out two EP's, both gaining her critical acclaim. Her most recent EP,
London
, set her up for festival royalty by grabbing the internet's attention with music that was dark yet refreshingly original.
BANKS' aesthetic has been compared to the likes of tour-mate The Weeknd, Erykah Badu, and Feist. However, comparing her to the rest of the game really isn't fair given how unique she has proven herself to be. Songs like
"Brain"
and
"This is What it Feels Like"
carry the same hazy and atmospheric qualities mentioned early because clearly she wants her listeners to feel something. On both tracks, lines like "Oh so cool you seem / Blending with that scene" and "Then when you saw I felt the same / You pulled away" from the respected songs stick with you the first listen. BANKS matches the gloomy energy in her instrumentals with deeply emotional topics in her lyrics that allow her messages to really sink in to the listener. Her choice in themes probably stems from her parents' divorce and most likely past relationships that turned vile on her. Her past gives her this gritty expressive edge that a lot of artists don't have or talk about. BANKS brings you in to her apartment to watch as she falls in and out of love and turmoil.
You can obviously see why BANKS is becoming such a big deal. Her debut album
Goddess
will be hitting stores this September and will be the launching point of her already skyrocketing career. She will also embark on a headlining US tour to promote
Goddess
and will be hitting up rather intimate venues. So it wouldn't be the best idea to sleep on these tickets, as many dates have already sold out.
Check out her video for her latest single
"Drowning
" and see how she has already captured the hearts of listeners all over the globe.
- Words by Jordan Wyman
Posted by

Emma Garland
at 8:19 PM