ATP! Album Review: Allie X - CollXtion I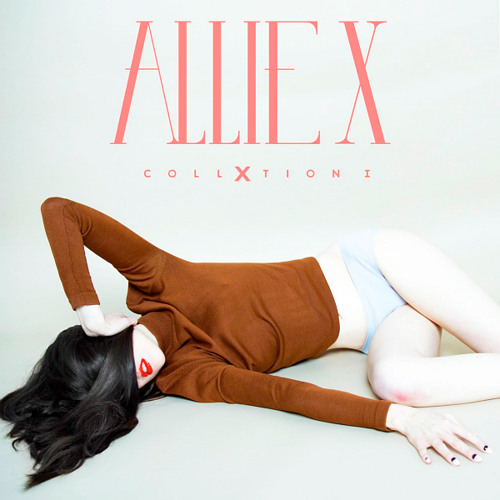 Allie X is a bit of a mystery. To us, and to herself. However, the Canadian indie pop-tress has had us hooked on her enigma ever since Katy Perry-approved debut single
"Catch"
was launched unexpectedly via SoundCloud last year. Now, Allie X has returned with her first cumulative release,
CollXtion I
. While the artist says the compilation is neither an EP nor an LP, the seven tracks come together in a way that is far from ambiguous.
Opener
"Hello"
beckons a sweet, xylophone-tinged greeting that could not be a warmer welcome. While the candy-coated melody and lyrics of jubilant yearning are reminiscent of Carly Rae Jepsen's formula, the unmistakable influence of Allie X's musical theatre past shines through in the building layers of soaring harmonies in the bridge, akin to a grandiose opening number.
"Catch"
and
"Prime"
have lost a little momentum since their initial releases, but their hooks remain enduring due to their undeniable vigor and electro-pop finesse.
"Tumor"
builds upon the chilling scintillation established in
"Catch"
with its slow-climb that later skyrockets into oblivion. Coupled with a simple, yet haunting, extended medical metaphor is inexplicably poignant.
Another previous SoundCloud release,
"Bitch,"
is perhaps the least listener-friendly, with its jarring delivery bordering on disjunction; but maybe this element makes it such an accurate depiction of co-dependent domesticity.
"Good"
sees the artist in a highly emotional and raw state, with apologetic pleas to her family for fear of having disappointed them. Roaring synths and a pulsing kick-drum keep this power ballad from becoming sleepy, and support some of Allie X's most understatedly brilliant—and thus most accessible—lyrical work.
Finally, dreamy closing track
"Sanctuary"
rounds out
CollXtion I
. The verses showcase the singer's surprisingly rich lower-register, while the booming chorus displays the most vocal attack on the record, affirming that Allie X's classically-trained voice somehow manages to lend itself to pop rather perfectly. Much like
"Hello,"
there's a certain extravagant quality to
"Sanctuary."
It feels grand. It feels important. It feels like the end of something great, and the beginning of something even greater.
CollXtion I
is a polished, fresh, and sharp debut for Allie X, brimming with infectious melodies and lethal ideologies. The intermingling of light and darkness finds its sonic milieu here in her all-encompassing brand of pop: sugary, but hardly bubblegum. Allie X is a dark pop-star on the rise, and she has struck gold here with
CollXtion I
— 'X' unmistakably marks the spot.
4.5/5
Words by Megan LaPierre