ATP! Lists: 10 Most Anticipated Albums Of 2014
We Are The In Crowd - Weird Kids (February 18th)
We may have been just a little over-eager back in 2013 when we added We Are The In Crowd to our
'Most Anticipated' list
. What with relentless touring schedules, and, you know, general worldwide domination (well, almost…), we ought to have cut WATIC a break. But as soon as they got one? Oh, did they deliver! With the HIGHLY anticipated release of their sophomore record,
'Weird Kids'
promises to be not only deeper, but also catchier (if that's even possible!) than anything they've done before – the timing perfect, to coincide with yet more shows across the globe.
If tracks like
'Attention'
and
'The Best Thing (That Never Happened)'
are anything to go by, then the five piece may well be onto a winner. Proof, indeed, that patience is a virtue.
Ed Sheeran - TBD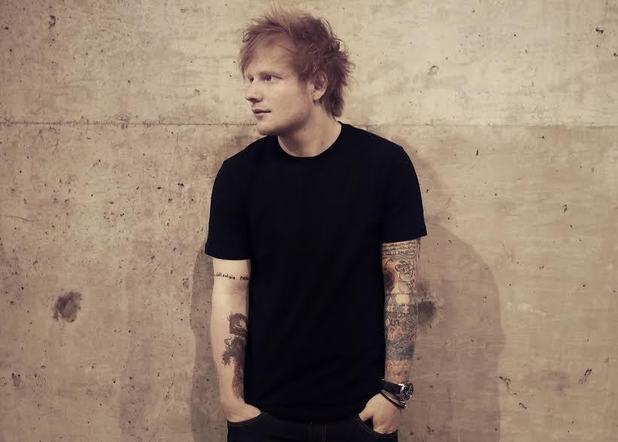 The UK's Ed Sheeran wowed music lovers all over the world with his 2011 debut album
+
. The album managed to rack up honors ranging from British Breakthrough Act and Solo Male Artist from the BRIT Awards, to a Grammy nomination for Song of the Year and even snagged the title of Most Illegally Downloaded Album. It did so well, in fact, that fans have been waiting patiently for more ever since. (Or not so patiently if you're like us. We just really love Ed, okay.)
The singer-songwriter has kept himself busy, however, not only writing songs with acts such as One Direction and Taylor Swift but also touring the world, most notably on the
Red
tour in which he did the majority of the recording for his new release on. While we haven't got many clues as to what's coming, and he seems pretty adamant about keeping it that way-- though we did get a kick at the thought of him going death metal-- it's pretty safe to say that it'll probably be something great. At least, it seems like a safe assumption given how good his track for the latest Hobbit movie,
'I See Fire,'
was. Admittedly, he has set the bar quite high for himself, but if there is anyone who can live up to those expectations, it's Ed. Now all we have to do is wait until February 17-- according to an interview with
Noise11
. If you need us, we'll be counting down the hours.
You Me At Six - Cavalier Youth (January 28th)

Cavalier Youth is the fourth full-length studio record to come from You Me At Six and is already shaping up to be one of the hottest records of 2014.
After dominating Wembley Arena at the end of 2012, the boys jumped ship to America to settle back down into the writing process and start piecing together the puzzle that would eventually become Cavalier Youth. Already giving us a little teaser of what to expect, with single release 'Lived A Lie,' (which saw huge success on the UK charts) as well as the recently released track, 'Fresh Start Fever.' Both tracks give evidence that the band have taken elements from the early days of Take Off Your Colours and Hold Me Down, combining them with huge choruses and punchy beats with a hidden depth.
This is probably the biggest You Me At Six have ever sounded, and there will be no surprise if
Cavalier Youth
dominates the charts on both sides of the Atlantic, taking You Me At Six to a whole other level of success.
Yellowcard - TBD
Since reforming after a two-year break back in 2010, Yellowcard has been cranking out records like nobody's business.
When You're Through Thinking, Say Yes
and
Southern Air
both received an overwhelming amount of positive reviews, and
Ocean Avenue Acoustic
was a dream come true for old school Yellowcard fans. Add a 10-year anniversary tour celebrating
Ocean Avenue
and its acoustic counterpart, and there lies a band with no intention of slowing down any time soon. In a recent interview, they shared that they were planning on releasing another record this year, much to everyone's delight. Violinist and background vocalist Sean Mackin shares, "2014, new Yellowcard. I think that sounds good." Yeah, that does sound pretty good.
The Cab - TBD
Label: Universal Republic Records
It's not a new record by The Cab unless there's a three-year gap in between each of them. Since the release of
Symphony Soldier
in late 2011, fans of The Cab have been anxiously awaiting to hear new music. The guys have been MIA music-wise since touring with Maroon 5 in 2012, spending the majority of their time working on new material. Despite our reports on it being released in 2013 (
we added them to this very same list last time around
), it appears that 2014 is the year for The Cab. Lead vocalist Alex Deleon has been teasing some of the new material on his various social media sites, and rumor has it the record is nearly finished. We've got our fingers crossed, and we bet you do too!
Pierce The Veil - TBD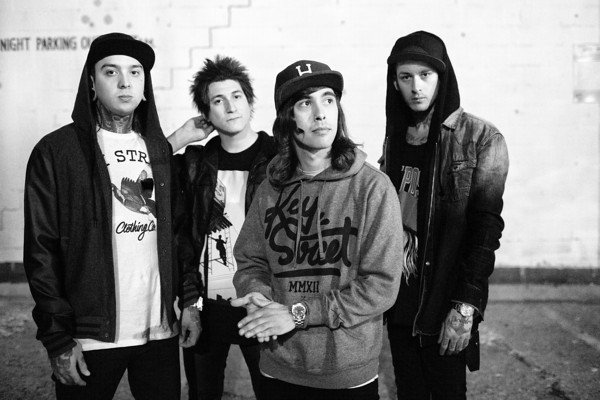 2013 proved to be a whirlwind year for San Diego rockers Pierce The Veil. From endless touring and a massive following,
Collide With the Sky
proved to be the group's most successful record yet. And nothing seems to be standing in their way.
A recent video from Vic Fuentes and Jaime Preciado revealed that 2014 holds a brand new Pierce The Veil album in the near future. Since it's early details on the record are still pretty dry but if there's anything Pierce The Veil has taught us, it is patience. With almost three years separating
A Flair for the Dramatic
and
Selfish Machines
, a few months of waiting for album number four will be a cakewalk.
What the future holds for the quartet is an exciting mystery. If they gained this much popularity from Collide, who knows how big these guys are going to get from this album. On top of their stellar songwriting and composition on each record, it's clear that Pierce The Veil are continuing to craft and fine-tune their sound. Each of their record has it's own sound, making them their own little babies in the Pierce The Veil family. There is only excitement over here to see what kind of commotion this next child will produce.
Candy Hearts - TBD
Label: Violently Happy Records
Candy Hearts have been keeping busy, having released their last EP
The Best Ways To Disappear
in 2012 and touring through the end of 2013. Their last release was met with an overall nod of approval, but as their producer Chad Gilbert of New Found Glory recently said about signing the group to his new label Violently Happy,
"The thing about Candy Hearts is that they're nowhere near their potential."
This is why 2014 will be a big year for the band. Whether it's just an extension of their latest EP or a completely new production for the band, their 2014 record will finally let us see how far Gilbert is willing to push Mariel Loveland and the rest of the band's bittersweetness to reach that potential.
La Roux - TBD
Label: Interscope Records
Feeling aggressive? Indestructible? Sexual? Well guess who else feels that way? Elly Jackson. Who is that? Why none other than the lead singer of La Roux herself. After about a two year hiatus and a string of festival gigs including Electric Daisy Carnival, Jackson and her band mates are gearing up to jump back in to the game and take 2014 by storm.
So remember when you couldn't walk anywhere without hearing "BEEN THERE DONE THAT MESSED AROUND"? Well get ready for something close to that. La Roux's self-titled debut album was known for it's glittery synths and strong vocals. In recent interviews, the group intends to do that again except incorporating more acoustic and live instruments to the sound. This can only mean that this is a group that actually taking the time to make a stellar record as opposed to cranking out hits. As for the "sexual" thing, that was one of the words Jackson used to describe the songs. So yes, La Roux's overdue return will be one of the most interesting releases of 2014.
Blink-182 - TBD (Summer)
For anyone who's closely followed blink's supremely storied career, it kind of feels like their much-hyped reunion happens all over again every time the trio releases new music. That feeling is certainly present in the murmurings surrounding blink's forthcoming full-length (the follow-up to their 2012 EP
Dogs Eating Dogs
, and their first release since their last proper album, 2011's
Neighborhoods
), due...well, let's just say "at some point" this year.
The band will be headlining Reading and Leeds in the UK, with the festival's official website promising fans a "debut airing of the much-anticipated forthcoming seventh studio album, which will be released next summer," though the band is somewhat known for consistent delays.
However, following the 10th anniversary of what is arguably their finest work (2003's Untitled album), the band seems to have a clearer vision for the future of blink-182, which should surely inspire a "return to form" – avoiding the separate studios, self- produced approach which muddied the promising waters of
Dogs Eating Dogs
and
Neighborhoods
, opting instead for the shut-off-the-world / total immersion methods used beautifully on
Untitled
.
Interestingly, the album will likely arrive around the same time as drummer Travis Barker's recently announced memoir.
Breathe Carolina - Savages (TBD)
Hopefully there won't be any drug running or violent shootouts on this Breathe Carolina like the similarly titled Don Winslow novel (although that would make for some great PR), but you never know with the Denver boys.
Breathe Carolina will be riding the swell of 2014 to the tune of hard. Despite losing long-time backing vocalist/screamer Kyle Even, the boys have made it clear that they have no plans for slowing down. The group completely immersed themselves in the sound they want (i.e. Krewella and other EDM acts) so it's safe to say that this album will be a, you guessed it, banger. Debauchery and heavy bass seem to be the tone of the album as previewed in their recently released title-track
'Savages.'
This being the group's fourth album, it's incredible to look back and see where Breathe Carolina started out. From David Schmitt and Even's garage band beginnings, the duo got together to make their debut
It's Classy, Not Classic
on a MacBook, I repeat, a MacBook. Since then Breathe Carolina has grown in their numbers and sound. Now touring the world with a full band and deep bass, Breathe Carolina have grown to be the all-around solid live act making every tour they're on worth every penny. 2014 will give us many albums, and Savages should be on music radars everywhere.