Exclusive Free Download: ALTER THE PRESS! 2010.03 & 2010.04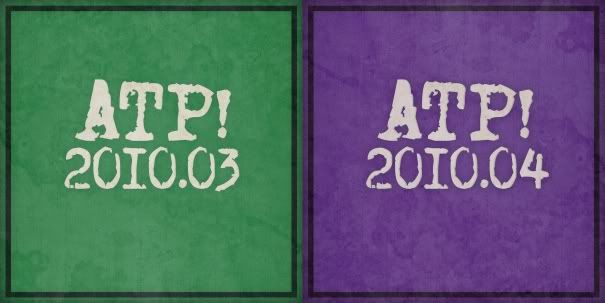 This week Alter The Press! celebrates it's second birthday and for the occasion, we are giving away two free compilations.
'Alter The Press! 2010.03'
and
'Alter The Press! 2010.04'
sees our four-part 2010 compilation series being completed.
From everyone here at ATP! we'd like to thank everyone for everything over the last two years and to everyone who has contributed to these compilations. We'd also like to give a special thank you to Tom Bennet from
Pandy Cane
for contributing artwork to the compilations.
Thank You.
Download 'Alter The Press! 2010.03' here
Download 'Alter The Press! 2010.04' here
Click read more for the full track listings.
Alter The Press 2010.03
:
Far - Deafening
Fact - Slip Of The Lip
Blitz Kids - In Each Other Eyes
The Young Veins - Change
Les Sages - Nomads
She Bears - Victim Of Circumstance
Bayonets - Crawl
The Felix Culpa - It's Raining At Indian Wells
Pegasus Bridge - Yoko
Hold Your Horse Is - You Show Up
Seahorses - Keeping Time
Snowing - Sam Rudich
The Front Bottoms - Swimming Pool
Harvard - French Girls
Arden - Grow!
The Attika State - The Horton Shuffle
The Seven Degrees of Stephen Egerton - Cut Me Down To Size
Tiger! Tiger! - When You're Ready For It
Girl Afraid - Believe What Comes Next
A Common Year - A Final Word
Alter The Press! 2010.04
:
Man Overboard - Montrose
Out of Sight - Where Do We Go From Here
Kid Liberty - Telephone Toughguy
Balance & Composure - Rope
Starters - Fight or Flight
Handguns - Anywhere But Home
Maker - I-91
Tigers Jaw - I Saw Water
Bright and Early - Something Personal
Tall Ships - Books
Talons - Trevelyan
Cuba Cuba - Bonus
The Cape Race - You Should Be Ashamed
The Riot Before - Oregon Trail
Out Like A Lion - A Better Place
Cub Club - He Sleeps Where He Falls
Blacklist Royals - American Hearts
Make Out Kids - Don't Wanna Know
Lost On Campus - Whisky
Alburn - She Fell First
Still available to download:
2009
Alter The Press! Spring/Summer 2009
Alter The Press! Autumn/Winter 2009
2010
Alter The Press! 2010.01
Alter The Press! 2010.02